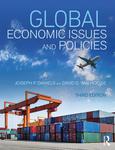 Title
Global Economic Issues and Policies, 3rd ed.
Description
This introduction to all aspects of international economics, public policy, business, and finance is the clearest guide available to the economics of the world we live in. Written in a highly engaging style, packed full of up-to-the minute, real-world case studies and pitched at an introductory level, the book does an expert job of drawing students in and will leave them equipped with a comprehensive toolkit of methods and essential facts. Covering the wide range of economic issues and policies generated by globalization, the text provides an introduction to the topic that emphasizes facts as well as theories, presenting all new economic concepts clearly and in detail.
This third edition reflects continuing developments in the world economy and in the analysis of international economics. Chapter introductions, pedagogy and data have all been thoroughly updated throughout, and key topics for expansion and revision include:
* Free Trade versus Fair Trade
* Bilateral and Multilateral Treaties
* International Outsourcing
* Public Perceptions of International Trade
* The Trilemma Issue
* Business-Cycle Synchronization
* Central Bank Emergency Tools
* Sovereign-Debt Problems
This text is suitable for any introductory module in international economics, public policy, and business, whether taught as part of an economics, public policy, business, or international studies program. It is also the ideal MBA level introduction to the global economy.