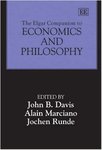 Title
The Elgar Companion to Economics and Philosophy
Description
The Elgar Companion to Economics and Philosophy aims to demonstrate exactly how these two important areas have always been linked, and to illustrate the key areas of overlap.
The Companion is divided into distinct parts, each of which highlights a leading area of scholarly concern: political economy conceived as social philosophy; the methodology and epistemology of economics; and social ontology and the ontology of economics. The contributors are well-known and distinguished authors from a variety of disciplines, who have been invited both to survey and to provide a personal assessment of current and prospective future states of their respective areas of philosophical interest.
Academics and students who have an interest in economics and philosophy, political philosophy and the history of ideas will find this book of great appeal, as will researchers working in the field and readers interested in the nature of the discipline of economics.
Publisher
Edward Elgar Publishing