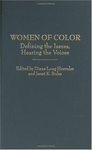 Title
Women of Color: Defining the Issues, Hearing the Voices
Description
Discusses the issues facing women of color in contemporary society, the representation of these issues in modern American literature, and the place of women of color in higher education.

Beginning in the late 1960s, women's studies scholars worked to introduce courses on the history, literature, and philosophies of women. While these initial efforts were rather general, women's studies programs have started to give increasing amounts of attention to the special concerns of women of color. The topic itself is politically charged, and there is growing awareness that the issues facing women of color are diverse and complex. Expert contributors offer chapters on the major concerns facing women of color in the modern world, particularly in the United States and Latin America.

Each chapter treats one or more groups of women who have been underrepresented in women's studies scholarship or have had their experiences misinterpreted, including African Americans, Latina Americans, Asian Americans, and Native Americans. Women of Color includes chapters on theories related to race, gender, and identity. One section provides discussions of literature by women of color, including works by such authors as Toni Morrison and Maxine Hong Kingston. The book also focuses on the place of women of color in higher education, including chapters on women of color and the women's studies curriculum, and the role of librarians in shaping women's studies programs.
Publisher
ABC-CLIO Greenwood
Disciplines
English Language and Literature