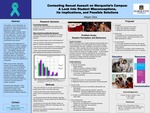 Files
Download
Download Poster and Paper (1.1 MB)
Description
Universities, such as Marquette, are not always the safe havens they are thought to be. Many students refer to Marquette's campus as the "Marquette bubble", making it seem as if our campus is close-knit, shut off, and rather safe. However, there are violent crimes being committed by students on our own campus, specifically sexual assault.
As reported by the Department of Public Safety, the number of reported sexual assaults on campus doubled from five to ten between 2007 and 2011. This statistic, however, only accounts for the sexual assaults actually reported. Many rapes and attempted rapes are unreported, perhaps because for the majority of these crimes, victim and assailant are acquainted.
While many schools, Marquette included, have policies regarding sexual assault, it is not the policies alone which need to be reformed. Instead, it is students' behaviors and perceptions of sexual assault which must be addressed. These are the findings of a study completed at Marquette University addressing various student behaviors which are conducive to sexual assault on college campuses.
Analyzing such behaviors, I have thus proposed a solution to make students more aware of the prevalence and seriousness of sexual assault on college campuses.
Publication Date
Spring 2012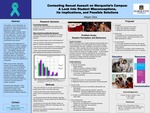 COinS