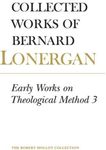 Title
Collected Works of Bernard Lonergan Vol. 24
Description
Continuing where Volume 23 left off, Volume 24 of the Collected Works of Bernard Lonergan traces the background to Lonergan's notion of functional specialization as it emerges in his Latin courses and seminars on method.
This volume contains editorial reports based on Lonergan's handwritten notes for two courses in 1963, both entitled "Method in Theology." Also included is the lecture "De Notione Structurae," dating from 1964, along with an English translation on facing pages.
Together with Volumes 22 and 23, Early Works on Theological Method 3 provides readers with a thorough presentation of the data on Lonergan's development through the 1960s as he worked out what became the classic book Method in Theology (1972).
Publisher
University of Toronto Press