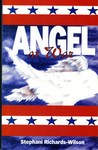 Description
The General chuckled and kindly replied, "Commander, the gender of your baby is irrelevant. The evils you mentioned earlier are venomous to both. Your son or daughter could attend the Naval Academy, join the Coast Guard, or fly combat aircraft for a living. Mary wants this child more than anything in this world, and she should have the honor of telling you what you want to know. A killjoy, I'm not!"
"But, wait!" the Commander implored.
"Good-bye," said the General. "I have to get ready for the next millennium, but I'll always be with you. Don't give up the ship!"
Publisher
Hopeful Times Publications
Disciplines
Leadership Studies