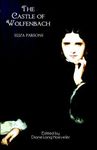 Title
The Castle of Wolfenbach
Description
Young Matilda Weimar is forced to run away when her lecherous uncle tries to rape her. She flees to the ancient Castle of Wolfenbach, where she hears ghostly groans and shrieks from the haunted east wing. Braving the supernatural threats, Matilda explores the castle's dark corridors and discovers the lonely Countess of Wolfenbach, imprisoned for eighteen years by her vengeful husband.
Matilda believes she has at last found friend, but tragedy strikes - the castle is burned to the ground and the Countess kidnapped! Can Matilda find her missing friend before her cruel uncle finds her? And what is the mystery that prevents Matilda from marrying her true love, the Count De Bouville?
A bestseller upon its publication in 1793 and reprinted frequently during the 19th century, The Castle of Wolfenbach was one of the seven "horrid novels" read by Isabella Thorpe and Catherine Morland in Jane Austen's Northanger Abbey. This Valancourt Books edition includes a new introduction and notes for modern readers.
Publisher
Valancourt Books
Disciplines
English Language and Literature | Literature in English, British Isles