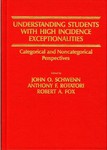 Title
Understanding Students with High Incidence Exceptionalities: Categorical and Noncategorical Perspectives
Description
This book is a general introduction to the characteristics and education of individuals with high incidence exceptionalities. These include learning disabilities, speech and language disorders, mental retardation, and emotional/behavioral disorders. These high incidence exceptionalities comprise 94 percent of the population with handicaps. Gifted and talented students were also included as they are a high incidence but nonhandicapped segment of our population with special educational needs. Nearly every general education teacher will teach some of these individuals,. In fact, it is difficult to imagine that a teacher would never have a student with an exceptionality in class. This book is therefore written to benefit the regular educator as well as the special educator.
The major emphasis of this book is on educating the learner with special needs. The first chapter gives a historical overview of the treatment of those with exceptionalities, major litigation and legislation, referral-to-placement needs, and types of classrooms and educational environments at each age level.
The chapter on each exceptionality provide historical background, definitions, characteristics, curriculum, needs, teaching procedures, special topics, and a glossary. The sixth chapter makes this book special as it details the noncategorical aapproach to teaching the learner with exceptionalities as many special education classrooms no longer contain only one type of exceptional population but contain various exceptionalities together. This book therefore addresses all types of classrooms for high incidence exceptionalities found in all of our schools.
Publication Date
7-1-1991
Publisher
Charles C. Thomas
Disciplines
Education | Special Education and Teaching