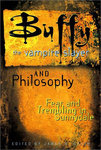 Title
Buffy the Vampire Slayer and Philosophy: Fear and Trembling in Sunnydale
Description
So. If you're kind of killing time between apocalypses or just wondering about the meaning of life thing, here's some readage . . . Look, these guys'll I-think-therefore-I-am you into the freaking ground. And the happy is better than shoe shopping. What? If I don't consult the oracle I'll, like, turn to stone? Well, yeah, if not already.
"the result is spectacular—brain candy, deep philosophical reflection, and pedagogical tool."
—Peter Ludlow, editor of Crypto-Anarchy, Cyberstates, and Pirate Utopias
"The ideal reader for this book would be a fan as well, one currently struggling through Philosophy 101."
—Sci-Fi Magazine
"Whether you see Buffy as a sympathetic satire of teenage life, a feminist adventure, a political parable, a postmodern bildungsroman, a semipornographic soap opera, or a morality tale, there are essays here to set you, well, philosophizing."
—Commonweal