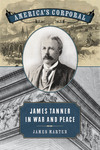 Title
America's Corporal: James Tanner in War and Peace
Description
James Tanner may be the most famous person in nineteenth-century America that no one has heard of. During his service in the Union army, he lost the lower third of both his legs and afterward had to reinvent himself. After a brush with fame as the stenographer taking down testimony a few feet away from the dying President Abraham Lincoln in April 1865, Tanner eventually became one of the best-known men in Gilded Age America. He was a highly placed Republican operative, a popular Grand Army of the Republic speaker, an entrepreneur, and a celebrity. He earned fame and at least temporary fortune as "Corporal Tanner," but most Americans would simply have known him as "The Corporal." Yet virtually no one—not even historians of the Civil War and Gilded Age—knows him today.
America's Corporal rectifies this startling gap in our understanding of the decades that followed the Civil War. Drawing on a variety of primary sources including memoirs, lectures, newspapers, pension files, veterans' organization records, poetry, and political cartoons, James Marten brings Tanner's life and character into focus and shows what it meant to be a veteran— especially a disabled veteran—in an era that at first worshipped the saviors of the Union but then found ambiguity in their political power and insistence on collecting ever-larger pensions. This biography serves as an examination of the dynamics of disability, the culture and politics of the Gilded Age, and the aftereffects of the Civil War, including the philosophical and psychological changes that it prompted.
The book explores the sometimes corrupt, often gridlocked, but always entertaining politics of the era, from Tanner's days as tax collector in Brooklyn through his short-lived appointment as commissioner of pensions (one of the biggest jobs in the federal government of the 1880s). Marten provides a vivid case study of a classic Gilded Age entrepreneur who could never make enough money. America's Corporal is a reflection on the creation of celebrity—and of its ultimate failure to preserve the memory of a man who represented so many of the experiences and assumptions of the Gilded Age.
Publisher
University of Georgia Press