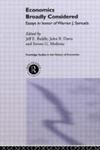 Title
Economics Broadly Considered: Essays in Honor of Warren J. Samuels
Description
Warren J. Samuels has been a prominent figure in the study of economics in the twentieth century. This book brings together essays by leading scholars in the areas of economics in which Samuels has made his most important contributions: the history of economic thought, economic methodology, and institutional and post-Keynesian economics.
This work is designed to give the reader a sense of the breadth and possibilities of economics. The essays, all published here for the first time, investigate issues such as:
The institutional structures that shape economic activity and performance.
The variety of approaches to economic analysis.
The importance of the history of the discipline both inherently and for the study of economics in the modern age.
With essays from leading scholars, collected and introduced by some of the most eminent authorities in the field, the work is a formidable volume, and one fit to honor one of the most renowned economists of our age.
Publisher
Taylor & Francis (Routledge)