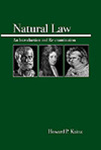 Title
Natural Law: An Introduction and Re-examination
Description
The Nuremberg Trials of leading National Socialists established the principle that individuals may be legally punished, even by death, for obeying the laws of their country. Is there then a higher law by which enacted valid positive laws may be judged, so that persons subject to such laws would be duty-bound to defy them?
In recent years the theory of natural law has been revived by a number of philosophers and jurists, who however often disagree sharply among themselves about the proper methods for defining and deriving natural law.
Howard Kainz surveys the history of natural law from its foreshadowing in ancient Greece down to the most recent controversies. Natural Law both introduces the subject to newcomers and sheds fresh light on such figures as Plato, Aristotle, Hume, Kant, Veatch, McInerny, Grisez, and Finnis.