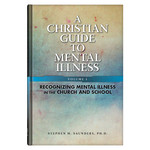 Title
A Christian Guide to Mental Illness
Description
Did you know that one in five persons, including members of the church, will suffer from a mental illness in any given year? This means that all churches will have many families who are affected. This first of a two-volume set about mental illness will help you gain a more thorough understanding of mental illness, including the distress and impairments it causes for both affected individuals and their loved ones.
Author Stephen Saunders explains what mental illness is and how common it is. He describes the mental illnesses in detail, including symptoms, risk factors, and how each mental illness affects the lives of patients and their loved ones. There are also chapters dedicated to child and elder abuse, domestic violence, and suicide.
Saunders presents a scriptural understanding of sin and grace, law and gospel, the theology of the cross vs. the theology of glory, and how those with mental illness may feel that God has deserted them or doesn't care. Though intended primarily for church workers, the book will provide any reader with the tools to understand and help their loved ones experiencing a mental illness.
Publisher
Northwestern Publishing House
Disciplines
Psychiatry and Psychology