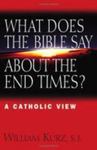 Title
What Does the Bible Say About the End Times? A Catholic View
Description
Where did we come from? Where are we going? How will the world come to an end? Has God given us clues from which we can deduce an end-time scenario? Will believers be raptured, spared the tribulation of cataclysmic times?

Many Catholics find themselves confused by current speculations among fundamentalist Christians about the end of the world. These scenarios, often based on convoluted and faulty interpretations of Scripture, offer a blow-by-blow account of God s master plan for closing out history. Does the Bible really support such scenarios? How does Catholic teaching address our curiosity about the end of human history?

Through a careful examination of key biblical themes, symbols and imagery from Genesis to Revelation, Scripture scholar Father William Kurz demonstrates that the Bible is not a puzzle...to construct into an end-time scenario. Instead, he leads the reader to a deeper understanding of God s intent in creating humanity, his persistent efforts to rescue us from our sin, and Jesus final return in glory to judge the living and the dead.
Publisher
St. Anthony Messenger Press