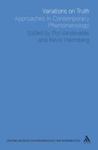 Title
Variations on Truth: Approaches in Contemporary Phenomenology
Description
Bringing together leading scholars from across the world, this is a comprehensive survey of the latest phenomenological research into the perennial philosophical problem of 'truth'.

Starting with an historical introduction chronicling the variations on truth at play in the Phenomenological tradition, the book explores how Husserl's methodology equips us with the tools to thoroughly explore notions of truth, reality and knowledge. From these foundations, the book goes on to explore and extend the range of approaches that contemporary phenomenological research opens up in the face of the most profound ontological and epistemological questions raised by the tradition. In the final section, the authors go further still and explore how phenomenology relates to other variations on truth offered up by hermeneutic, deconstructive and narrative approaches.

Across the 12 essays collected in this volume, Variations on Truth explores and maps a comprehensive and rigorous alternative to mainstream analytic discussions of truth, reality and understanding.