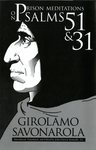 Title
Prison Meditations on Psalms 51 and 31. (Vol. I, Reformation Texts with Translation (1350-1650))
Description
"In a famous remark Machiavelli dismissed Girolamo Savonarola as a prophet unarmed and hence doomed to failure. He was certainly a political failure, and paid with his life for that failure, but there are many ways to measure success and failure. It was Machiavelli's own failure in politics that led to his career as a writer and to undying fame. It was Savonarola's failure in politics that led to his arrest and imprisonment, but he was not a prophet totally unarmed, for in prison he retained the pen, which is often mightier than the sword. There he wrote the two works printed in this volume. They became the most read of all his writings and prove that physical torture did not destroy his literary and spiritual powers.
Savonarola's exposition or meditation on Psalm 50 (51) (the Miserere) and Psalm 30 (31) ('In te, Domini, speravi') have not been printed in English during the twentieth century. The primary purpose of this book is to make that text available in modern English. The secondary purpose is to help students who are trying to learn to read post- classical Latin. As an undergraduate the translator found the Loeb series, which printed the text and translation of classical Roman authors on facing pages, the best single help to acquire facility in reading Latin. Fewer such volumes exist to help students of post-classical Latin. This series tries to fill that gap for both Latin and early modern vernaculars. Savonarola's Latin seems well suited to that purpose because it is fluent and powerful but without great grammatical complexity."
—From the Preface by John Patrick Donnelly, S.J.
Publisher
Marquette University Press