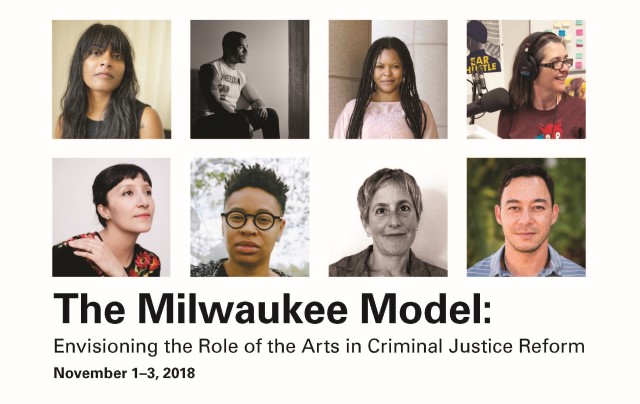 The Milwaukee Model: Envisioning the Role of the Arts in Criminal Justice Reform

November 1–3, 2018 Milwaukee, Wisconsin

THURSDAY, NOVEMBER 1
Keynote Conversation

FRIDAY, NOVEMBER 2
Artist-Led Panels and Discussion
Three artist-led panels, which will also include educators, scholars, and students, will explore the role of the arts in advancing criminal justice reform efforts. Presentations will highlight national models for in-prison programs, diversion programs, and awareness efforts that are designed and implemented by artists or art educators.

SATURDAY, NOVEMBER 3
Community Day of Action
Community members and stakeholders in Milwaukee are invited to discuss how some of the models and artist-led interventions presented during the first two days of the symposium might be adapted to and deployed in Milwaukee and Wisconsin. The day will begin with a series of artist-led workshops, followed by facilitated breakout discussions with symposium speakers.

The Program Book contains full event descriptions and participant biographies.
Browse the contents of MKE Model Symposium:
These conversations occurred over 3 days in November 2018.