Browse Journals and Peer-Reviewed Series
Conversations is published twice-yearly to coincide with the start of the fall and spring semesters. First, each issue is written to stimulate the campus dialogue – through departmental discussions or faculty symposiums – on the pursuit of various ideals. Second, through our various departments – feature articles, forums, book reviews, reports, and Talking Back – we want to keep the conversation going to build on the progress we have made. Our members, representing various institutions and disciplines, visit three colleges and universities a year and listen to groups of faculty and students in order to decide the themes for each issue. Articles are solicited from across the country to explore many varied topics, from the core curriculum and hiring for mission to global vision, social media and diversity.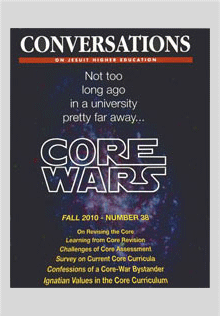 The Graduate Journal of Counseling Psychology (GJCP)
was a peer-reviewed academic journal designed exclusively for counseling psychology graduate students enrolled in the Department of Counselor Education and Counseling Psychology (CECP) at Marquette University. It published three volumes, with four issues, between 2008 and 2012. It exists now as a static archive.
ISSN 0024-3639
The Linacre Quarterly is the official journal of the Catholic Medical Association. Continuously published since 1934, The Linacre Quarterly is the oldest journal in existence dedicated to medical ethics. The Linacre Quarterly provides a forum in which faith and reason can be brought to bear on analyzing and resolving ethical issues in health care, with a particular focus on issues in clinical practice and research.
This is The Linacre Quarterly's archive, containing every issue from the journal's beginning until 2008 (Vol. 1-74) when publishing operations were taken over by Maney Publishing. No issues were published in 1946. Additionally, combined issues include: Vol. 13 No. 1 & 2, Vol. 15 No. 3 & 4, Vol. 16 No. 1 & 2. For these combined issues, only the first issue number is indicated.